BEVERLY HILLS (MI) -- Oftentimes at Thanksgiving, a nice plate of leftovers can be as good, if not better, than the original offering.
"FTS"
is here with some tasty tidbits for you to masticate as we await the next Flyer home game Wednesday vs. Alabama State.
-- This is the best analysis of the final minute of the KU game that I have seen, from Jesse Newell of the
Kansas City Star
on what really went wrong on the Jayhawks' final possession in their loss to Dayton
https://www.kansascity.com/sports/co...256132652.html
Newell also had this to say about the Flyers and their fans:
Dayton has home losses to UMass Lowell, Lipscomb and Austin Peay and their fans show up to Orlando like this. Have to be some of the best college hoops fans in the country.
-- Gotta love the looks of this graphic: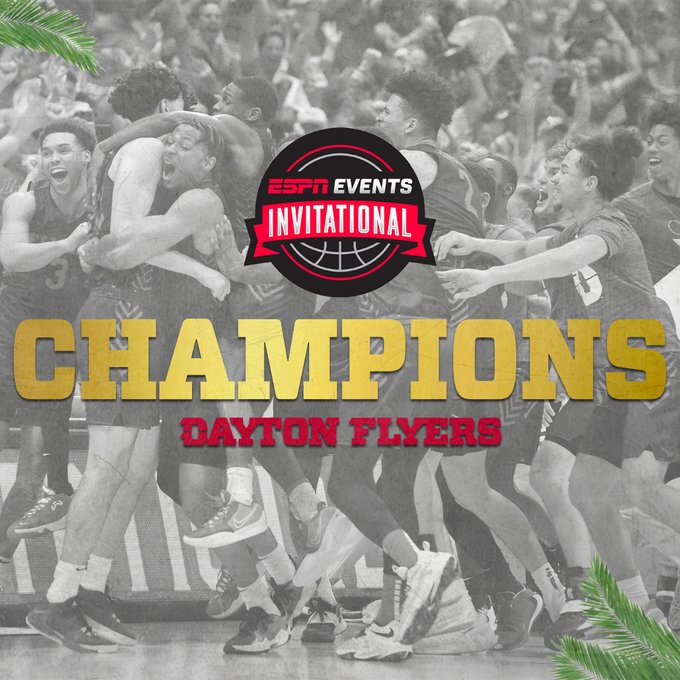 -- The only way that
"FTS"
can rationalize the Red and Blue dropping three buy games at home and then turning around and improbably winning a trio of tilts at a neutral site vs. some very tough hombres is this:
AG's very young Flyer squad had never played in front of a sold-out UD Arena before. They wanted so much to impress the 13,000+ Faithful that they totally failed to execute on both ends of the floor. Hitting the road may have been the best thing that could have happened to them after such a horrendous start.
Wednesday will be the acid test. The guys better get accustomed to the full Arena, as every remaining home game is a sellout.
-- Andy Katz interviews Mustapha Amzil after his KU game winner:
https://twitter.com/DaytonMBB/status...58540882157578
Katz also was nice enuf to rank UD #25 in his "Power 36" after their showing at the ESPN Events Invitational:
https://www.ncaa.com/news/basketball...s-latest-power
-- Nobody else had Dayton ranked after hauling home the hardware from Orlando, but Seth Davis did include UD on his list of teams that are "Almost Famous":
https://twitter.com/SethDavisHoops/s...32527182438402
"The Hometown Coach" Mark Adams updates his impressions on the Flyers:
Today I am seeing a team finding itself. Still a work in progress. Will be brilliant at times, head scratcher other times. Even during the same game. If you've never coached a young team it's hard to understand, but that's the way it is.
-- Love these AG locker room videos:
"It takes what it takes":

https://twitter.com/DaytonMBB/status...38306653724685
"Not one day did I walk in and feel like you guys wouldn't do anything but PUT THE WORK IN":
https://twitter.com/DaytonMBB/status...19593236680706
-- Steven Wright from the
Xenia Gazette
, dropping some Flyer knowledge:
Beavercreek HC Steve Pittman on @DaytonMBB /Anthony Grant today: "We all love our kids. A lot of the time people just look at the score and think the coach has to be lousy. We ride on every missed shot, every layup, every opportunity because we want to see the kids succeed."

When Christian Braun got T'd for his alley oop, Kansas was up 44-29. That point for Dayton is the third smallest win probability position (1.4%) of the eventual winner this season.
Graphic goodness: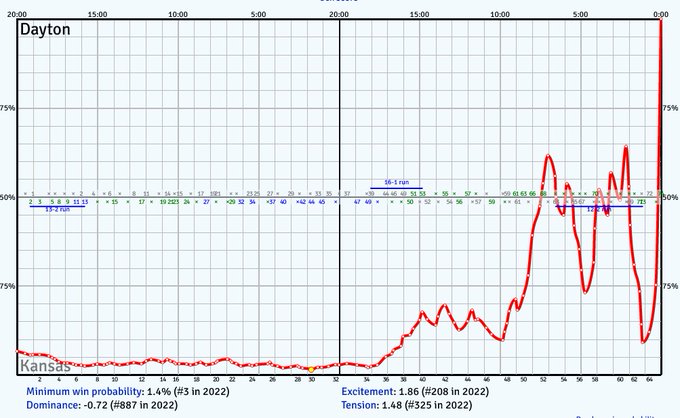 -- From the NCAA: One week from today, the 2021-22 NET will be made available for M/W basketball. Find them here:
https://stats.ncaa.org/selection_ran...itty_gritties…
.
They will be updated daily for the rest of the year. Click on the team's ranking to see a team sheet. Click on the team name to see stats, results and box scores.
-- Kansas can't be looking forward to this get together next season: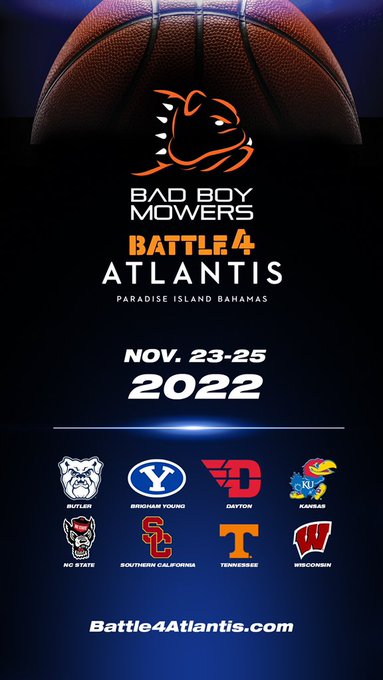 That's it "From the Swamp."
You can email me at:
swampy@udpride.com