BEVERLY HILLS (MI) -- The inaugural "Flyer Fan Fest" is history; the one and only UD hoops exhibition game vs. Cedarville is still 10 days away. What will the Sons of Anthony Grant do to entertain themselves in the interim? How about meeting Huggy Bear and his WVU Mountaineers halfway in Columbus for the annual not-so-secret scrimmage? Sounds like a plan!
-- Jeff Goodman of
Stadium
has a list of all the secret scrimmages taking place over the next few weeks:
https://watchstadium.com/not-so-secr...es-10-15-2021/
Find it interesting that A-10 brethren
Duquesne
, George Mason,
LaSalle
,
UMass
and
Richmond
are opting to run two secret scrimmages, thus forgoing an exhibition tilt vs. a non-D-1 squad. Makes sense, but that also robs their fans of the chance to see them play in person before the regular season commences. That would never fly in Flyerland.
-- "The Hometown Coach" Mark Adams is not a fan of secret scrimmages:
Why can't preseason scrimmages be just that, scrimmages. I don't care about scores. I don't know who played, how many guys played, or how the coaches approached the scrimmage. Man, zone, full court press, 1/2 court trap??? Real games w real scores start soon, not now.
-- It's the pre-season prognostication season once again. Time for the "experts" to get out their dartboards and take a SWAG at what will transpire nationally, as well as in the A-10.
Matt Norlander at
CBS Sports
ranks all 358 D-1 programs:
#358-#201:
https://www.cbssports.com/college-ba...021-22-season/
#200-#69:
https://www.cbssports.com/college-ba...2021-22-season
/
#68-#1:
https://www.cbssports.com/college-ba...021-22-season/
UD is among the 12 teams that Matt had the most difficulty ranking:
https://twitter.com/MattNorlander/st...79702055596038
Ken Pomeroy has released his first algorithm-based rankings:
https://kenpom.com/
The good news for the
Flyer Faithful
is that altho Kenny has UD at #84, that slots the Red and Blue to be #3 in the A-10, which sounds about right.
A-10 Talk
takes a look at how the conference should shake out:
https://www.a10talk.com/the-2021-22-...eason-preview/
Fellow UD blogger and boxing aficionado Grant Kelly breaks down AG's roster:
https://www.a10talk.com/dayton-flyer...up-prediction/
-- Jon Rothstein has "Five questions entering the Atlantic 10" and none of them pertain to Dayton:
https://collegehoopstoday.com/index....e-atlantic-10/
He also details the latest injury for the snakebitten VCU Rams:
https://twitter.com/JonRothstein/sta...70199617085448
--
Fordham
Is Building Team Chemistry Through Boat Rides, Paintball And, Yes, The Metropolitan Opera:
https://www.forbes.com/sites/adamzag...h=784fb98033d4
-- In what would be the smartest thing the NCAA has done in a dog's age, they are planning to remove the standardized test requirement for initial college eligibility:
https://www.ncaa.org/about/resources...re-requirement
-- Nice snapshot analysis of Obi's rookie campaign with the NYK, courtesy of
The Knicks Wall: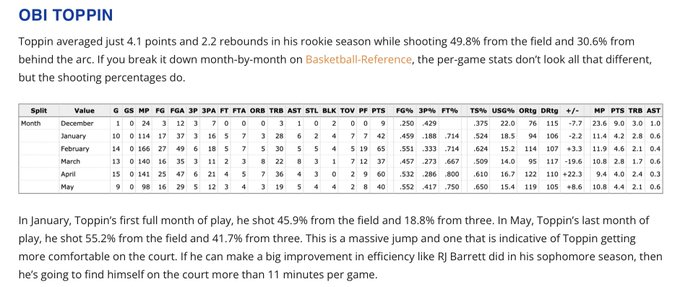 -- The
Charlotte
Hornets signed former Flyer Jalen Crutcher:
https://www.nba.com/hornets/press-re...ameron-mcgriff
Played him in one exhibition game where he got burn for the entire 4th quarter in a blowout and hit a three--then waived him:
https://twitter.com/hornets/status/1448732856293994499
Next stop:
The Greensboro Swarm of the NBA G League.
-- Apparently, Kanye West is running a prep school basketball program in conjunction with Adidas. Who knew?:
https://www.zagsblog.com/2021/10/06/...in-california/
-- TSN Mike recalls the 1971 World Champion Pittsburgh Pirates. I remember them, too, as I was in the stands at Three Rivers Stadium for game 5 of the World Series:
https://www.sportingnews.com/us/mlb/...It-5bWG4YLpZL0
--
"The Sweet Tweet of the Week"
comes to us from former U of M and MLB pitcher Jim Abbott:
https://twitter.com/jabbottum31/stat...86235173097479
That's it "From the Swamp."
You can email me at:
swampy@udpride.com