BEVERLY HILLS (MI) – Heading into the homie vs. VCU Friday night in prime time on ESPN2, the UD Flyers find themselves 4-0 and sitting atop the A-15 standings. Owners of a seven-game win skein and a streak of like-numbered contests where they have held opponents to under 60 points, the Sons of Anthony Grant are finally looking like the squad that was a consensus Top 25 preseason pick.
The Red and Chapel Blue have managed to dig themselves out of the NET Rankings abyss they found themselves in after the Blacksburg beatdown. They fell to #187 after that Va Tech tilt and have climbed all the way back to #55 after dispatching
Fordham
:
https://www.ncaa.com/rankings/basket...l-net-rankings
Here is where the schedule starts to get interesting – @ home vs VCU and Davidson; on the road @ GW and Archie Miller U; back home vs.
Richmond
and Loyola; then @
SBU
and VCU. Every game from here on in will be featured on a big boy national network – no more of that ESPN+ stuff!
As always, the secret is:
One game at a time.
Elsewhere in Flyerland:
– This is how you start a ballgame on the road:
https://www.daytondailynews.com/spor...-d5a19167f4f5/
– Toumani made #1 on
Sports Center's Top 10
with this posterization:
https://twitter.com/parlaypyle/statu...54615884386304
– Hall of Famer Hal McCoy with his game summary:
https://pressprosmagazine.com/2023/0...olmes-barrage/
– Ken Pom now lists Deuce as #10 in his POY rankings: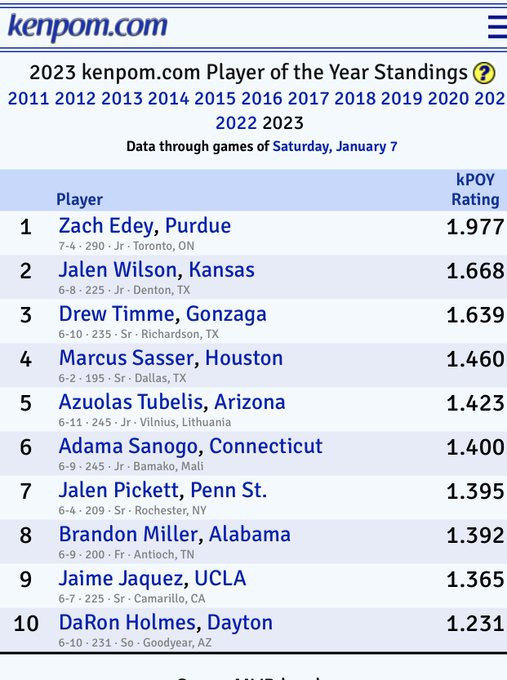 – This dunk by DaRon vs. Fordham was very reminiscent of the backdown throwdown by Obi in his last appearance at UD Arena:
https://twitter.com/DaytonMBB/status...86687952506882
– Speaking of Obi, it's fun to watch his reactions to the second half Flyer dunkfest:
https://twitter.com/JJustinB/status/1613014560486694912
And yet another reminder of why Obi is #1:
https://twitter.com/DavidPJablonski/...29463964409856
Jablo also tweeted that Toppin spoke to the team after the game; that Mustapha Amzil played in front of his dad and brother for the first time in his college career and that AG told him Malachi Smith and Kobe Elvis have returned to practice doing non-contact drills.
Good news all around!
That's it
"From the Swamp."
You can email me at:
swampy@udpride.com