BEVERLY HILLS (MI) – Is there any Flyer fan who doesn't love to watch some film of UD stars past, present and future? It's gotta be the ideal way to pass the time during the offseason.
"From the Swamp"
is certainly among that number, so without further ado, as Warner Wolf used to say, "Let's go the highlights":
Courtesy of Intuition Hoops, check out these clips of current Flyers:
Koby Brea three point shooting:
https://twitter.com/IntuitionHoops/s...29265208414211
DaRon Holmes switching onto guards:
https://twitter.com/IntuitionHoops/s...53698457862144
DaRon Holmes shot blocks:
https://twitter.com/IntuitionHoops/s...46433554333699
Malachi Smith finishing at the hoop:
https://twitter.com/IntuitionHoops/s...78185848999936
Anthony Grant BOB Dribble Stagger:
https://twitter.com/IntuitionHoops/s...26941593260032
The appropriately named Knicks Film School compiled a lengthy Twitter thread highlighting Obi's end-of-season emergence:
https://twitter.com/KnickFilmSkool/s...59357193818116
Grant Kelly provides video evidence of the most electric dunk sequence in UD Arena history:
https://twitter.com/GrantKelly07/sta...81183533584390
Obi is a human highlight reel off the court as well:
https://twitter.com/NBA_NewYork/stat...13144441892865
What's this? Oh nothing, just "Mongolian Mike" jumping over his seven foot tall father and dunking:
https://www.youtube.com/watch?v=-asJPK2I3Bg
Speaking of Mike, he rose up to #95 in ESPN's final ranking of 2022 prospects:
http://www.espn.com/college-sports/b...022/order/true
Inside the overnight marathon film sessions that got Coach K and Duke into one last Final Four:
https://www.cbssports.com/college-ba...st-final-four/
For his upcoming book on the history of UD Arena, Jablo interviewed the one and only Lowd Father, John Raponi: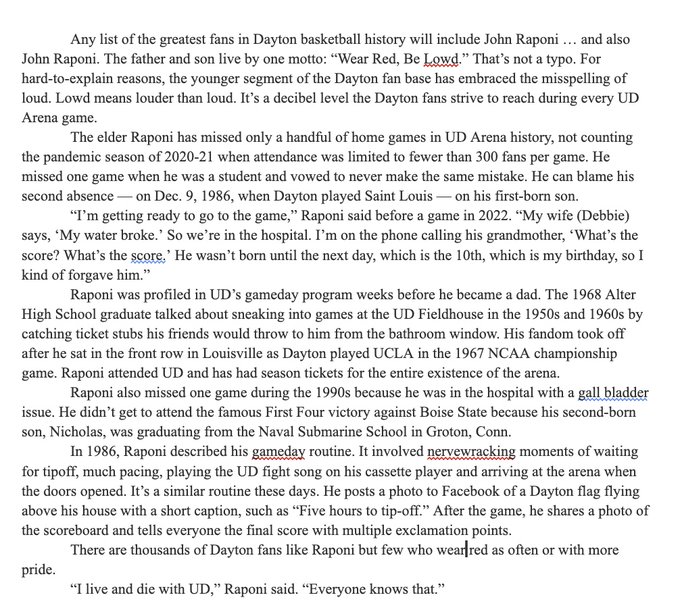 Coupla future prospects to keep and eye on:
2025 SG RJ Greer, son of UD Assistant Coach Ricardo Greer:
https://www.verbalcommits.com/players/r-j-greer
DaRon's little bro, 2026 6'6" SF Cameron Holmes:
https://twitter.com/MSHTVOfficial/st...C5gbGPiYUqAAAA
– John Gasaway with an interesting observation that he tweeted before the Final Four:
If 2020 had happened KenPom may have given an overall No. 1 seed KU a 20-25% shot to win it all. Excellent chance, but "rest of the field" is undefeated since 2014.

Gonzaga, Baylor, and Dayton may have been the other top seeds. Missing a tournament was harsh all around.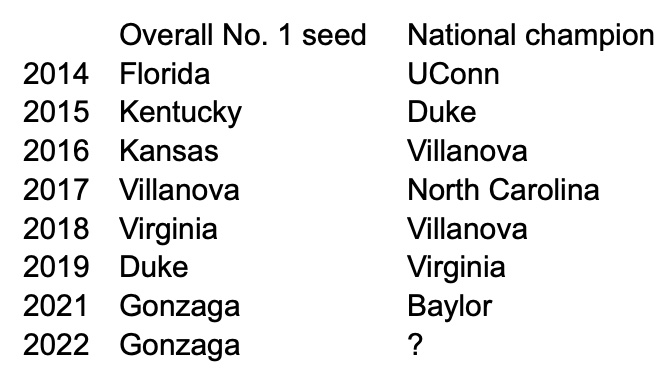 We now know that the answer for 2022 is Kansas and Gasaway's theory holds true for another year.
– Jay Bilas on the current state of men's college hoops:
https://www.espn.com/mens-college-ba...ege-basketball
– Years of Corruption and Enablement Lead to Shameful and Deserving End For Will Wade:
https://www.si.com/college/2022/03/1...-embarrassment
– The making of
"Dark Side of the Moon"
by Pink Floyd:
https://www.youtube.com/watch?app=desktop&v=dj4_-kh-Kpg
– Enjoy this video of 73 year old Bill "Spaceman" Lee coming out of the stands, with beer in hand, to strike out some young whippersnapper:
https://twitter.com/Super70sSports/s...32013328494593
That's it "From the Swamp."
You can email me at:
swampy@udpride.com