BEVERLY HILLS (MI) – We've all checked out the limited number of YouTube video highlights of AG's 2022 6'8" PG commit, "Mongolian Mike" Sharavjamts. The problem is that they are just that – highlight reels. Let's face it, no one ever misses a shot on one of those suckers. A few Flyer fans were able to scope out Mike and his ISA Academy mates at the Flyin' to the Hoop events in Dayton earlier this year, but that's about it. Mike being named to the World Team at the prestigious Nike Hoop Summit presents us with the opportunity to see what all the buzz is about, as Sharavjamts competes with and against some of the best young players on the planet.
For a while there, it appeared that we might not get to see Mike or the Nike Hoop Summit live at all. For the longest time, there was no listing as to where the game would be televised. This problem stems from the fact that the NHS has not been played the last two years due to Covid, so the event lost its "window" on ESPN2. I emailed Reggie Walker at the NHS less than a week before the game was set to tip off and he replied there would be an announcement "soon."
Some geological Googling on Wednesday unearthed the fact that the NHS would be broadcast live on KFXX radio, "1080 The Ticket'' in Portland. A deeper dig led me to a Duke MB, where a poster named "Devilhorse" had discovered this listing for a rebroadcast of the Nike Hoop Summit:
NBA-TV
Sunday 4/10
9:00 am EST
Hey, tape-delayed TV beats no TV at all, right?
A few hours later, Reggie Walker sent me a press release with good news for all UD fans and half of Mongolia. The Nike Hoop Summit will be showcased on a free live stream available on usabasketball.com and USA Basketball's Twitter, as well as nba.com, the NBA App, and the NBA's YouTube channel and Facebook page. The NBA and USA Basketball will also co-host the feed on their respective Twitch channels. This arrangement was aptly described as a "Megacast."
What no truTV?

There is a reason that the NBA is all over this event, as eleven of the past twelve #1 overall NBA draft picks have participated in the Nike Hoop Summit.
The lineups for both teams are extremely impressive:
US Team Roster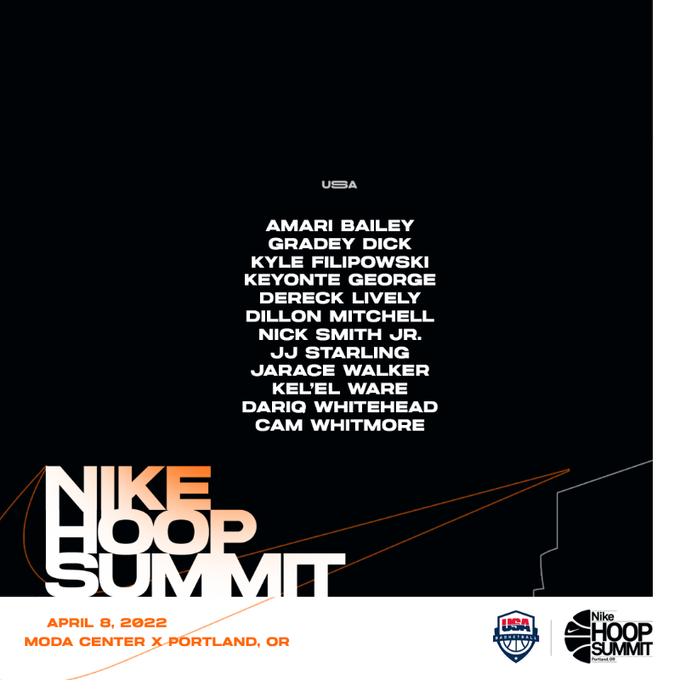 US Team press release
https://www.zagsblog.com/2022/02/28/...summit-roster/
World Team Roster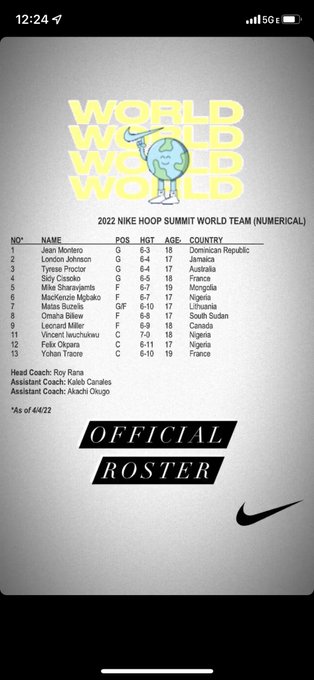 World team press release
https://www.usab.com/news-events/new...announced.aspx
9 of the top 10 players in the ESPN Top 100 will be in Portland. Three of these guys are headed to Duke, others to Villanova, Kansas, Oregon, Kentucky, Texas, USC and Arkansas.
And one of them will be attending the University of Dayton.
Now all that is left to do is to watch Mike actually play.
It's no surprise that with this level of talent that Mike is not starting. He enters the game with 1:49 to go in the 1st quarter and basically never touches the ball. And then he sits. The World Team leads 26-23 after one period.
Mike re-enters with 3:18 left in the half. He misses a pair of triples, but then steals the rock and finishes with a slick layup. Mike then blocks a shot as the half ends. Fran Fraschilla talked extensively about Mike and that he will be suiting up for AG at Dayton, as well as his dad, the "Mongolian Shark" who played for the Harlem Globetrotters. The US Team leads at the half by 6,
Play in the 2nd half got a little ragged. The World Team missed a bunch of threes and trails by double digits. Mike returns with about 5 minutes to go in the 3rd. He fouls Amari Bailey who proceeds to miss both FTs. Mike gets a questionable goaltend called against him and hits the bench.
Cam Whitmore who is headed to Villanova has been very impressive for the US, as has Tariq Whitehead who is destined for Duke.
By the time Mike returns with 3:38 to go the US is up by 16. Mike shows his passing flair on a nifty feed for a layup, which prompts Fran to say:
"I think he's gonna be a point guard at Dayton."
Mike highlights:
https://mobile.twitter.com/dashaa_e/...57019832090624
The US team defeats the World Team 102-80.
That's it "From the Swamp."
You can email me at:
swampy@udpride.com