BEVERLY HILLS (MI) -- Capital One celebrity spokesman Samuel L. Jackson is known for frequently asking TV viewers:
"What's in your wallet?"
"From the Swamp" is here to inquire similarly of Flyer Fans:
"What's on your DVR?"
Taking a look at my saved sports programming there isn't much:
-- A recap of the 2018 World Series that is not going to be deleted any time soon.
-- The thrilling Patriots/Chiefs AFC Championship overtime rock fight from Sunday evening that will be around for awhile.
-- The Flyers/
Bonnies
double overtime debacle from the day before.
While not nearly as important or memorable nor as esthetically pleasing as the first two, the UD roadie vs. the Oleanders belongs on this short list for a couple of reasons. Any away-from-home victory for an A-10 team is essential; Winning in upstate NY where A-10 teams fear to tread is equally crucial; closing out games has been difficult for this bunch, so for them to do it gives this W added meaning.
I got a FitBit for Christmas and that sucker got a workout during this slugfest. This Win Probability chart (courtesy of David Jablonski at
The DDN)
mirrors my heart rate and probably yours too if you watched the game: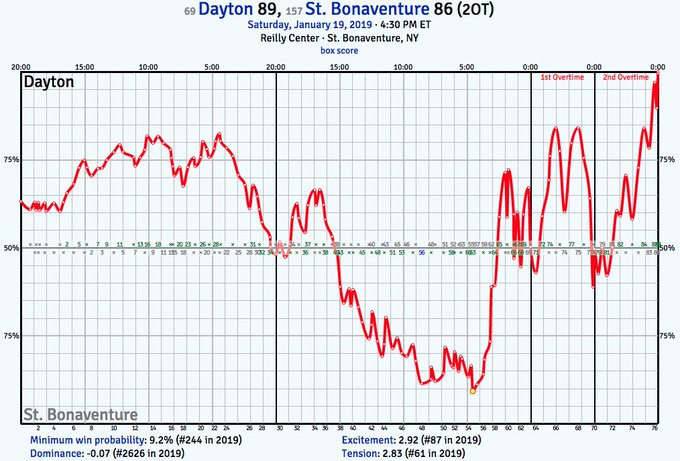 The Flyers/Bonnies contest ranks 61st in games thus far in 2019 in terms of tension? No feces, Holmes!
My favorite highlight of the game: The play coming out of a TO that resulted in an easy Obi Toppin layup off of a screen by Jalen Crutcher:
https://twitter.com/DavidPJablonski/...67610186878977
There has been a lot of talk on the UD Pride MB questioning AG's in-game coaching capabilities. Plays like this kinda take the wind out of the sails on that argument, no?
In the back of our collective minds Flyer Fans are ruminating to themselves "Wait until next year!" Because that is when Messrs. Watson, Chatman, Johnson, Sissoko and Tshimanga will all be eligible and Jhery Matos will be healthy and they will join the returning UD roster, minus Josh Cunningham.
Perhaps we should all relax and just enjoy this year's edition of the Red & Blue in the meantime.
Elsewhere:
-- I was shocked to see Archie Miller moonlighting in a Hungry Howie's Pizza TV commercial here in Detroit:
https://www.ispot.tv/ad/Iqbp/hungry-...deals-mall-cop
-- Tremendous article from
The Players Tribune
by NFL HoFer Ty Law entitled
"A Letter To My Younger Self":
https://www.theplayerstribune.com/en...y-younger-self
-- 100 years ago my grandfather worked as a grinder for Gillette in Boston. I would like to think that he would appreciate the stance his former employer is taking in their latest TV commercial:
https://gillette.com/en-us/the-best-men-can-be
That's it "From the Swamp."
You can email me at:
swampy@udpride.com