BEVERLY HILLS (MI) -- So enuf already about
"The Last Dance"
Swamp, what's up with the UD Flyers? In that regard, there is only one thing for certain:
We don't know what we don't know
Heck, you can say that about life in general these days, right? So many things we have always taken for granted in the past have changed. That won't stop
"FTS"
from taking a stab at the many questions that surround the 2020-2021 edition of the University of Dayton Flyers. Here goes nuthin'!
The schedule?
As of now UD has the following tilts on their docket:
-- 3 games in South Carolina as part of the Myrtle Beach Invitational – Nov. 19, 20 & 22
-- The hot-off-the-presses home and home with SMU, starting Nov.29 at UD Arena: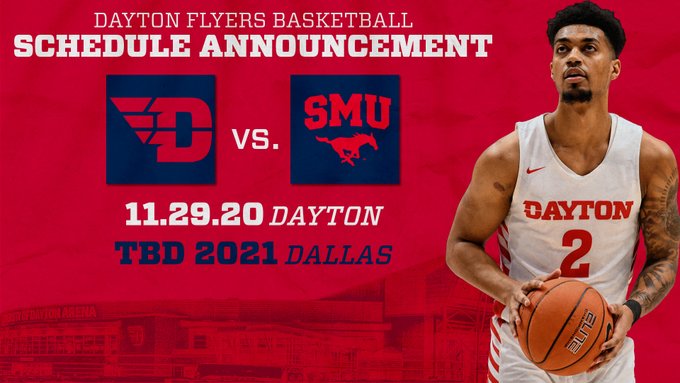 -- An away game on Sunday, December 6th vs. Nevada as part of the A-10/Mountain West challenge
-- Mississippi State on Dec. 12 at State Farm Arena in Atlanta as part of the Holiday Hoopsgiving charity event
-- Ole Miss at the United Center in Chicago Illinois, date TBD
Beyond that, we know nothing. Bernadette McGlade's suggestion that the A-10 go to a 20 game conference schedule probably has UD AD Neil Sullivan reaching for mass quantities of liquid sustenance. It's a bad idea.
Where will Obi go in the draft?

NBA.com
says #3:
https://ca.nba.com/news/one-play-why...r1bpn33zny9c20
The Ringer
says #11:
https://nbadraft.theringer.com/?_ga=...694.1579013093
The truth is probably somewhere in between. From a purely selfish standpoint, as a Michigan resident I would love to see Obi One land with the Detroit Pistons.
Will Jalen and Ibi come back?

Jeff Goodman of
Stadium
published a couple of useful pieces regarding NBA Draft early entrants. The first was a list of all 205 guys who have submitted their names:
https://watchstadium.com/stadiums-20...er-03-31-2020/
The second was entitled
Stay or Go?
https://watchstadium.com/stay-or-go-...ts-04-29-2020/
Messrs. Crutcher and Watson would do well to heed Goodman's advice.
Whither Chase Johnson?
In a recent interview, AG told David Jablonski of
The DDN
this:

Coach Grant is not usually prone to resort to coach-speak, but here I guess it makes sense for him to do so because even he probably doesn't know the answer...
yet.

What's up with recruiting?

One thing we know for sure: AG and his staff are working hard, despite the COVID-19 induced hindrances. Jablonski talked to AG about it here:
https://www.daytondailynews.com/spor...wWQqJ7XYQbzCP/
The
Flyer Faithful
had hoped that Ohio native and UNC transfer Jermaine Francis might provide the answer at PG once Crutcher and Chatman graduate, but it appears that AG and staff decided to pass on the oft-injured player.
And lastly, here is one straight out of left field:
How did UD ultimately end up with the 'winged D' logo?
The DDN
recently interviewed designer Andy Nick from Real Art and he revealed that you can thank...
Archie Miller!
A lot of people also don't realize Archie Miller was instrumental in changing the perception about UD. He's the one that personally ordered a pregame experience where you turn the lights out. He wanted professional videography for the pregame video.
He's the one that ordered that we dropped the "U" from UD when we rebranded after we made the Elite Eight run in 2014. That ruffled a lot of feathers dropping the "U." He was like, "Nope, we're "D," we're just Dayton.

A lot of Daytonians don't have that global view of the college basketball scene. UD, I believe it's mostly known for University of Delaware if you're out on the East Coast. And Archie was like, "We are not sharing an acronym with anybody. We're Dayton."
Here is a link to the story:
https://www.daytondailynews.com/life...STVOQVt2ReThJ/
That's it "From the Swamp."
You can email me at:
swampy@udpride.com