BEVERLY HILLS (MI) -- Mighty thankful for the hoopful diversion that TBT is providing in this long, hot summer of our discontent. Without baseball and the up-in-the-air status of college and pro football, the NBA and even our beloved college hoops, seeing the former Flyers + 2 in the Final Four for $1 million is a welcome digression.
Win or lose, life goes on and
"FTS"
is here to provide some short-term succor, with updates on the matters of studs, signees, scribes and showbiz.
Hit it!

Studs

When it comes to Flyer hoops, there is Obi One stud. His Obiness has been a busy boy, as he patiently awaits the NBA draft, now scheduled for sometime in the next millennium.
NBADraft.net provides us with this Situational Analysis: Obi Toppin:
https://www.nbadraft.net/situational...is-obi-toppin/
This is a really great interview with #1 from
The Flyer News:
https://flyernews.com/sub/obi-toppin...re/06/04/2020/
Obi Toppin and his brother Jacob show off the hops:
https://www.espn.com/video/clip?id=29371149
Two minutes of uninterrupted Obi video highlight goodness:
https://twitter.com/swishcultures_/s...27550237306880
Gotta love this graphic: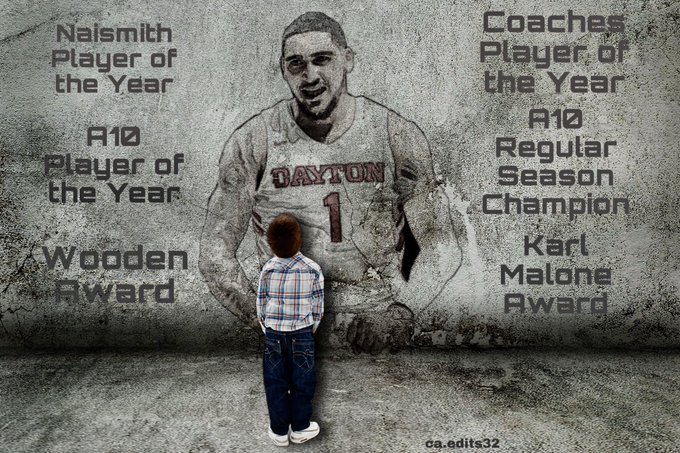 Signees
ICYMI, Doug Hauschild's UD Sports Communications team has been cranking out an excellent series of profiles on the new guys entitled The Flight. Here they are:
Luke Frazier:
https://spark.adobe.com/page/lJS36AVRkGgPt/
Koby Brea:
https://spark.adobe.com/page/CirmM4FnyQ68c/
R.J. Blakney:
https://spark.adobe.com/page/9YcYAULcpZE09/
Zimi Nwokeji:
https://spark.adobe.com/page/sUVxTbYX2MKN0/
Scribes
Jon Rothstein has a coupla previews of interest to UD fans:
Early prediction on Dayton's '20-'21 starting five:
https://twitter.com/JonRothstein/sta...46952453410816
Atlantic 10 Offseason Breakdown:
https://collegehoopstoday.com/index....son-breakdown/
I remember reading Alex Kline's blog when he was just a HS kid covering AAU events. Alex was just named a scout for the New York Knicks:
https://www.forbes.com/sites/adamzag.../#1a91de703907
Legendary hoops writer John Feinstein provides the answer as to why he will always have a soft spot for UD basketball:
https://twitter.com/JFeinsteinBooks/...03916157145090
UD grad Steve Bulpett was recently laid off from his post as Celtics beat writer for
The Boston Herald,
a position he has held for 35 years. The comments after Steve announced it on Twitter tell you all you need to know about what an outstanding scribe and person he is:
https://mobile.twitter.com/SteveBHoo...52983059771403
Showbiz
How Arnold Schwarzenegger willed
Total Recall
into existence:
https://www.theringer.com/movies/202...ission-to-mars
Why
The Mandalorian
Uses Virtual Sets Over Green Screen
https://www.businessinsider.in/video...w/76325781.cms
Bob Dylan has a lot on his mind
https://www.nytimes.com/2020/06/12/a...owdy-ways.html
How Indiana Jones's Fedora Became an Artifact With a Life of Its Own
https://www.theringer.com/movies/202...f-the-lost-ark
An anecdote on the late, great comedian Carl Reiner
https://threadreaderapp.com/thread/1...767738882.html
Gary Larson is cranking out new panels of his legendary
Far Side
comics and they are fantastic!
https://www.thefarside.com/
That's it "From the Swamp."
You can email me at:
swampy@udpride.com