BEVERLY HILLS (MI) -- We are literally and figuratively all in this together. Stuck at home, sheltering in place, without the joy of "March Madness" and the ensuing "April Gladness" that was sure to be the Dayton Flyers' destiny in 2020.
The barrage of postseason accolades heaped on Obi and AG helped to ease the pain...
a little.

Tracking the grad transfers, sit one/play two guys and HS recruits that AG and staff are pursuing helps to soften the blow...
a bit.
But nothing will fill the void of what woulda, coulda, shoulda been for the 2019-2020 University of Dayton Flyers.
Time to reload and do it all over again in 2020-2021...
we hope.
A look around the wide world of hoops:
-- The ultimate time killer: a full video replay of the UD/GW game:
https://www.youtube.com/watch?v=VvPX...ature=youtu.be
Do yourself a favor and FF to the 13:00 mark for when the real fun begins.
-- A tip of the
"FTS"
cap to UD's Assistant Director of Content Creation Jon Asher for this tremendous Obi Toppin graphic: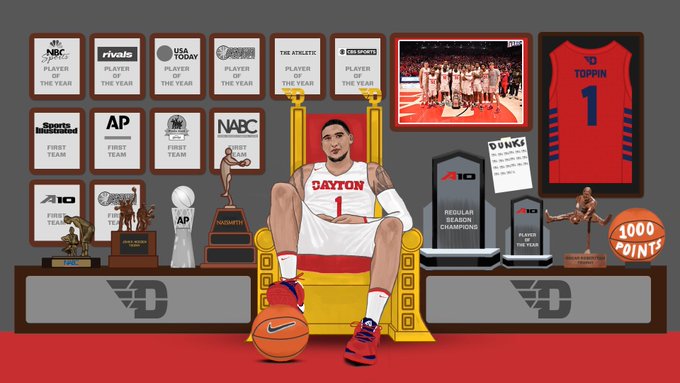 And here is a link to a super cool time lapse video of how Jon created it:
https://twitter.com/jon_asher/status...12813900406784
-- TSN Mike with his list of the top ten things he will miss from March Madness, leading off with "Dayton Invading Indy":
https://www.sportingnews.com/us/ncaa...v1mw2gsvfzmmol
-- Rob Dauster tweets:
Bill Self spending 40 minutes breaking down the film of the last seven minutes and OT of the Dayton game is the best thing you'll watch today:
https://kuathletics.com/self-perspective-episode-2/
Of course, Coach Self starts his analysis when UD is up by 8. My preference would be that the game would have ended at that point.
--
"Dayton's Obi Toppin Is One Of The Most Polarizing Prospects In The 2020 NBA Draft":
https://www.forbes.com/sites/zachary.../#5983f1fa66df
-- From his hometown paper
The Memphis Commercial Appeal
comes this story on
"Ex-Ridgeway star Jalen Crutcher deals with historic Dayton season cut short by coronavirus":
https://www.commercialappeal.com/sto...in/2872929001/
-- I want one of these posters!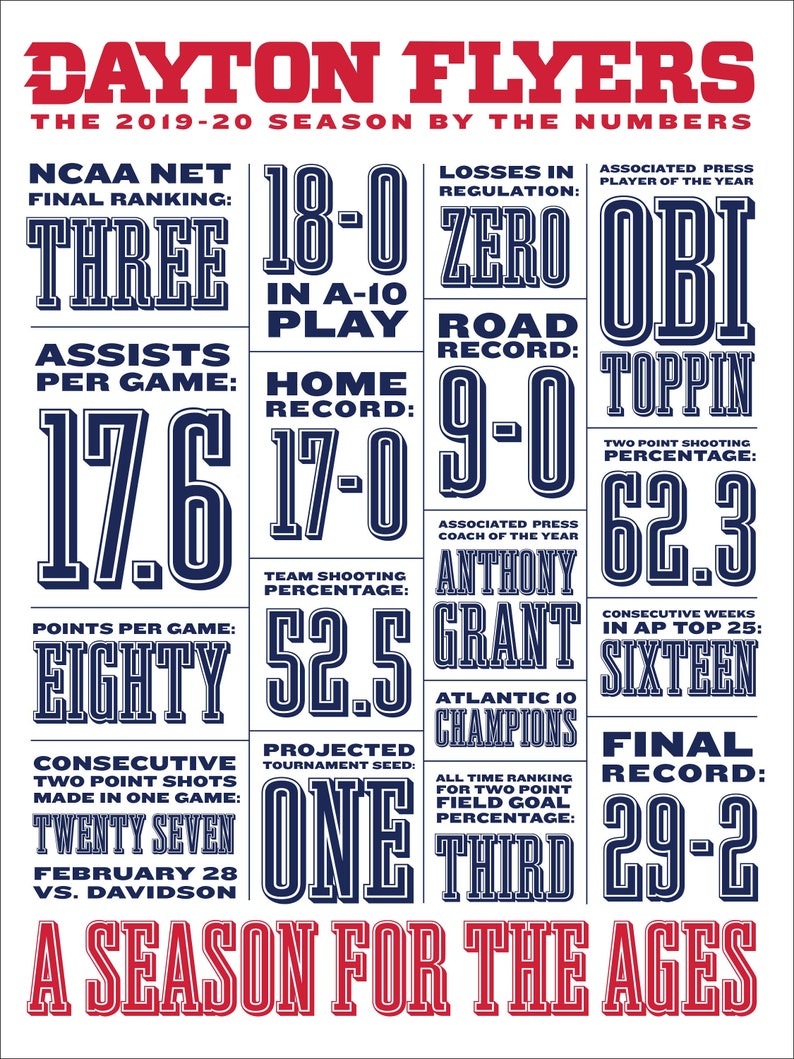 You can order one here:
https://www.etsy.com/listing/7755512...ublished_alert
-- BG's daughter Bella is going to be a Golden Domer:
https://twitter.com/CoachBGregory/st...66545256742915
Congrats to Coach
Gregory
and his wife Yvette!
-- My days of playing pickup hoops at the Y are over for now--doctor's orders from the Younger Swampette, even before the Governor of Michigan's shelter in place edict. Mrs. Swampy found a solution to the problem: my early Father's Day gift from her was a portable hoop for the driveway, "some assembly required." Who are they kidding? There was a sh*tload of wrenching necessitated.
Anyway, now I can step outside and get some burn without endangering anything other than the plants in the front yard. I've already set a new personal best for consecutive FTs made at 40. My previous mark of 37 was set at an oldies bar in Minneapolis when I was on a market trip to visit WCCO in 1987, while working at CBS.
As if my daughter's warnings weren't already enuf, then there is this admonition from the Mayor of Chicago: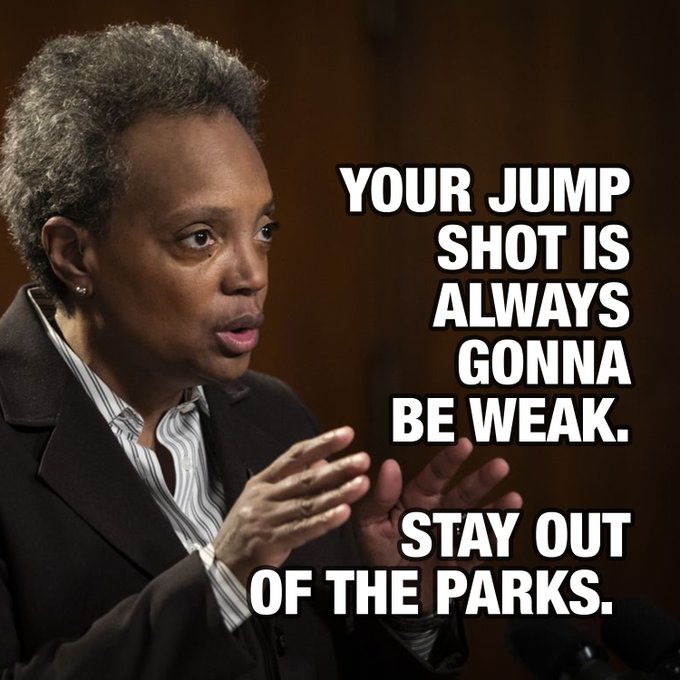 How are you adjusting your routine?
-- My old UD roommate Steve Downes (the voice of Master Chief on the video game
Halo)
is lending his vocal chords for charity to help buy medical supplies for the COVID-19 crisis:
https://www.reddit.com/r/halo/commen...ctor_will_use/
-- Jon Rothstein of
CBS Sports
created these 33 different T-shirts during the seasons with pithy slogans for various teams and coaches:

Gee, is there anybody you might have possibly missed there Jonny???
--
PBS
is offering free video streaming of the excellent Ken Burns documentary
Baseball.
Linky goodness right here:
https://www.pbs.org/show/baseball/
-- The greatest beer run ever!
https://www.youtube.com/watch?v=D4WA...4f2WG-ml4UqRUA
--
"The Sweet Tweet of the Week"
comes to us from Dickie V:
Just did an interview with vet sportswriter @SteveBHoop
(Note: Steve Bulpett of The Boston Herald)
about what could have possibly happen with @DaytonMBB / Steve has covered the @celtics for years & loves The Flyers as he is a Dayton grad. Yes could have been a magical ride for @obitoppin1 & his buddies.
That's it "From the Swamp."
You can email me at:
swampy@udpride.com