DAYTON (OH) -- The University of Dayton Flyers' regular season finale vs. GW on Saturday had more than the usual hype behind it.
"From the Swamp"
was there to take it all in and provide some color commentary from section 309, as I was just a fan in the stands (albeit one with a press pass) with Mrs. Swampy for this one.
Consider what was at at stake:
-- The opportunity to go 18-0 in the Atlantic 10, extend the nation's longest win streak and cut down some nets.
-- Senior Night for Ryan Mikesell and Trey Landers.
-- Adios Obi Night for #1 as he enters the NBA Draft as a surefire lottery pick.
-- ESPN's
College Gameday
was in town earlier in the day, live from The Frericks Center.
-- Flyer fans hoped that the game would mark the return of "The Legend"
Bucky Bockhorn
.
-- "The Hometown Coach" Mark Adams was back in the "Dayton Decibel Dungeon" as he had so aptly nicknamed it.
-- Mark Titus from the popular
Titus and Tate
podcast was also be in the house after posting this on Twitter:
Screw it - I'm booking a flight to Ohio and coming to the Dayton game Saturday. I gotta see these dudes in front of their home crowd. Let's get crazy @DaytonMBB

(What's the beer policy in UD Arena?)

That's a whole lotta shakin' goin' on, no?
Before we go any further, if you haven't already done so, read
Chris Rieman
's excellent summation of what this Flyer team means to its fans and to the City of Dayton:
http://www.udpride.com/forums/showthread.php?t=34119
The University of Dayton and its basketball program came off exceptionally well during the
College Gameday
broadcast on ESPN.

The only weak spot was the "Rose Ceremony" for Bubble Teams.
Instead of "Roses"
Gameday
should have had "Rosey"...as in Chapman, interviewed live by Jay Bilas who has always sung Velvet's praises whenever he references the 1984 Elite Eight squad.
My first stop at the Arena was to chat with
Larry Hansgen
, who let me know that unfortunately "The Legend" was not feeling well enuf to attend the season finale. Get better, Bucky and see you next fall!
Doug Hauschild told me that the ESPN
Gameday
production crew was effusive in their comments on The Frericks Center setting, comparing it to seeing your favorite rock band in an intimate venue as opposed to a big arena.
Talked to "The Lowdfather" John R before the tip and he said that including GW the Red and Blue only need to win 10 more games. I like the way he thinks!
Said hello to Grant Kelly from
A-10 Talk
, who just won his first amatuer boxing match. I told him he was crazy and he replied "That's what my mom says."
Ran into Flyer photographer Ron Thaman and his wife Joy who said they will both be there in Brooklyn for the A-10 Tournament.
As for the game itself, this is where I would normally provide a running commentary of the action, but without a laptop that wasn't happenin'. Suffice to say that the first half was mostly forgettable, while the second stanza provided some of the most electrifying and emotional moments in a season chock full of 'em.
Like these:
https://www.facebook.com/DaytonMBB/v...2919188018141/
https://twitter.com/SportsCenter/sta...74586637705216
While the postgame celebration was even more unreal: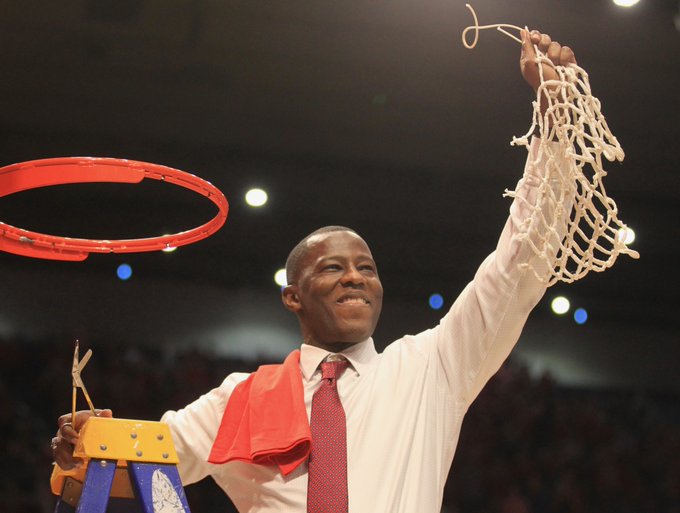 https://www.daytondailynews.com/news...E4NVKoacOtvnM/
We are running out of superlatives to describe this edition of the University of Dayton Flyers. 'Phenomenal' is the one that does it best for me, because we are witnessing a once-in-a-lifetime phenom in the personage of Obi Toppin. Because of him, we are arguing about who should be POY; thanks to Obi One, UD is a legitimate candidate to be a #1 seed on Selection Sunday. Toppin would be the first to admit that he didn't do it alone, but I'm here to tell you the Flyers do not come close to reaching these lofty heights without him.
As Dickie V said so eloquently about The Sons of Anthony Grant after watching them dismantle Davidson:
Bring on the big guys...they are for real!
That's it "From the Swamp."
You can email me at:
swampy@udpride.com