BEVERLY HILLS (MI) --
It sucks.
What else can you say?
Having the magical 2019-2020 University of Dayton Flyers' men's (and women's) basketball season abruptly ended due to the Coronavirus pandemic just feels wrong, but deep down we all know that it is the right thing to do.
As AG told SVP on
SportsCenter:
"This is way bigger than basketball":
https://www.youtube.com/watch?v=hJhB_3kyYUQ
It is especially painful when you see this
CBS Sportsline
simulation of the NCAA Tournament based on Jerry Palm's bracket: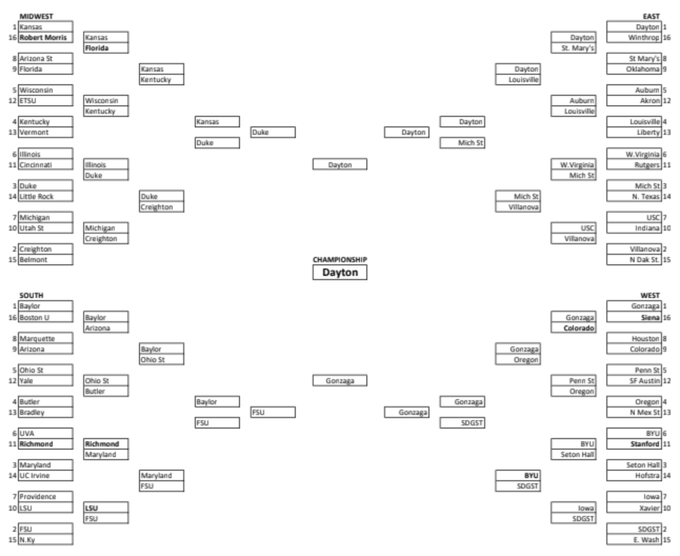 Or hear that the NCAA actually considered having the top 16 teams play in an abbreviated Big Dance:
https://www.daytondailynews.com/news...mhLJNlq7GztgO/
What woulda, coulda, shoulda been, eh?
Seth Davis of
CBS Sports
provides his eulogy for college basketball in
The Athletic:
https://theathletic.com/1673156/2020...shared-article
In case you hadn't noticed,
The Athletic
has made some of their content (like's Seth's piece) available free to non-subscribers. Nice touch by them in these bizarro times.
Ray Stineman over at
A-10 Talk
with his take on the end of Flyer hoops for this year -- It's Gonna Hurt:
https://www.a10talk.com/dayton-fans-its-gonna-hurt/
Jon Rothstein on
College Hoops Today
with a personal perspective on how Coronavirus reminds us all that it's just a game:
https://collegehoopstoday.com/index....s-just-a-game/
While sports fans everywhere have basically nothing to watch, Flyer Fans should keep in mind that the balloting is still taking place for the Wooden Award:
https://www.wendys.com/wooden-award-vote
And that voting for the Karl Malone finalists began yesterday
http://www.hoophallawards.com/men/vote.php
As if The
Flyer Faithful
needed any reasons to vote for Obi, here is the profile that UD created to promote his candidacy:
https://daytonflyers.com/index.aspx?path=mbball
Or you can just watch this:
https://www.youtube.com/watch?time_c...ature=emb_logo
Or read Pete Thamel's excellent piece from
Yahoo Sports
on the rapid rise of Obi One:
https://sports.yahoo.com/life-after-...071842411.html
Bottomline:
We are The Flyer Faithful. Keep the faith.
That's it "From the Swamp."
You can email me at:
swampy@udpride.com