BEVERLY HILLS (MI) – Every fall, when the University of Dayton Men's Basketball schedule is announced, there is one matchup that
"FTS"
mentally circles and thinks
'if I can only attend one game this year, that would be it.'
In 2020, it was Obi's last home game vs. GW.
This year it was Davidson.
Unfortunately, given the current Covid situation
"FTS''
wasn't able to be at the Arena for any UD home tilts this year…but I sure picked a winner!
Here are the extended Davidson game highlights, featuring Tim McCormack's bargain basement microphone:
https://www.youtube.com/watch?v=v9YEvms2oQY
If UD plays with that poise and determination in DC, it could be a very fun weekend! Heck, we could see more of this in The
Ghetto
!
Elsewhere in Flyer Hoopdom:
– "Brackets, get your A-10 Tournament Brackets here!"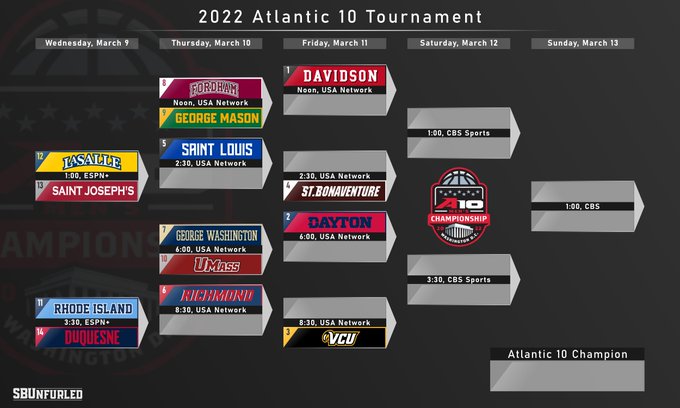 – Here are the odds for the A-10 Tournament according to KenPom.com. He has UD as the favorite: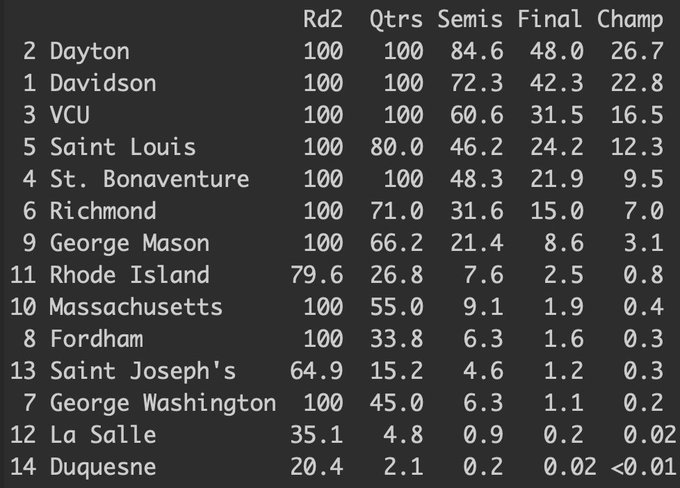 – Dayton's W over Davidson put the Flyers among the weekend winners in
USA Today's Bubble Watch:

https://www.msn.com/en-us/sports/nca...?ocid=msedgntp
– In case you ever wondered, these are the 2021-22 NCAA Division I Men's Basketball Championship Principles and Procedures for Establishing the Bracket:
https://www.ncaa.com/_flysystem/publ...Procedures.pdf
– "Mongolian Mike" will be a member of the World Team at the prestigious Nike Hoop Summit April 8th at the Moda Center in Portland, OR:
https://www.instagram.com/p/CapigAtv...3-593880a24cda
– Professionally LOWD
https://twitter.com/ProLOWD
does a great job following former Flyers playing here and abroad. One guy who has kinda slipped under the radar is Matej Svoboda, who appears to be doing quite well in the Czech Republic:
https://www.proballers.com/basketbal.../matej-svoboda
– This is something I would not be particularly proud of if I was Duke, especially in light of the fact that the Blue Devils lost Coach K's last game at Cameron Indoor: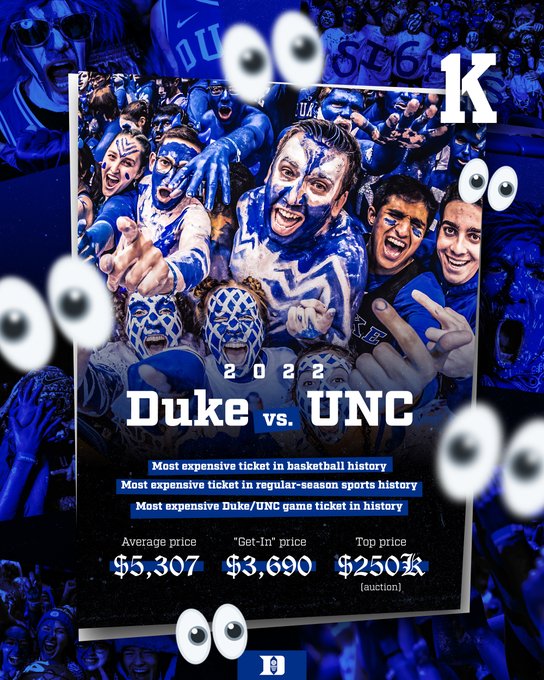 – Speaking of Duke, even though Dick Vitale must remain silent, his text messages are loud and clear: he's still 'awesome baby':
https://www.bostonglobe.com/2022/03/...-awesome-baby/
–
"The Sweet Tweet of the Week"
comes to us from Bro Krift, a Davidson alum and Executive Editor for the
Indy Star
who was in attendance Saturday afternoon:
Day after thought on Davidson-Dayton: Best atmosphere I've been in for a game in two decades especially when coupled with how both teams played. This is what college basketball is all about. Dayton's adoration for @DaytonMBB is something every city and school should aspire for.
https://twitter.com/BroKrift/status/1500494359145463812
That's it "From the Swamp."
You can email me at:
swampy@udpride.com