BEVERLY HILLS (MI) -- Friday night's showdown with Davidson certainly has a lot going for it: A chance for UD to clinch the outright Atlantic 10 regular season championship in front of a sold-out Arena and a national TV audience on
ESPN2.
As you probably know by now, handling the color commentary chores for The Deuce will be the and only Dick Vitale.
Dickie V has a bit of history in conjunction with UD Arena. I will bet dollars to donuts that he will make reference to the game in 1977 when his University of Detroit squad came to town, pulled off the upset and Vitale ended up dancing on the floor with the Titan cheerleaders.
Here is a link to a PDF file of Gary Nuhn's coverage of that tilt from
The DDN:
https://pbs.twimg.com/media/ERwMldAX...jpg&name=large
And a hot-off-the-presses interview with Dick by Jablo in
The DDN:
https://www.daytondailynews.com/spor...Zbgl4m996vTrK/
Myself, I prefer the game two years earlier when freshman (and Detroit native) Erv Giddings delivered a two-handed flush in the face of his friends from the Motor City at the end of a 90-76 Dayton blowout. Dunking was still verboten back then and Big Erv got himself a T and a seat on the bench after Coach
Donoher
yanked him.
-- Here is what Vitale had to say on Twitter about Friday's visit to UD Arena:
It will be lots of fun / by the end of the year @DaytonMBB can have 3 1000 pt scorers in their lineup as Landers can join Toppin& Crutcher & that my friends is having scoring power.
-- The Davidson game will also mark the return of former Archie assistant Kevin Kuwik. I was fortunate enuf to have the opportunity to interview Coach K 5 years ago:
http://www.udpride.com/forums/showthread.php?t=27732
-- Nice to see UD finally recognize probably the finest player to ever don the Red and Blue, Roger Brown:
https://www.youtube.com/watch?v=HCdK8NPE-4w
-- You know that Dayton is indeed flying high when
The Cincinnati Enquirer
deigns to devote some column inches to Obi and AG's Guys:
https://www.cincinnati.com/story/spo...te/4830847002/
--
College Poll Tracker
is a great place to actually see where the various AP voters slot the Flyers on a week-to-week basis:
https://collegepolltracker.com/baske...on-flyers/2019
-- Hats off again to UD Director of Sports Information Doug Hauschild on his induction into the CoSIDA Hall of Fame:
https://twitter.com/CoSIDAnews/statu...03549359415296
-- When it comes to attracting 4 and 5 star recruits, UD might trail the other teams ranked in the Top 10, but it's what happens on the court that counts: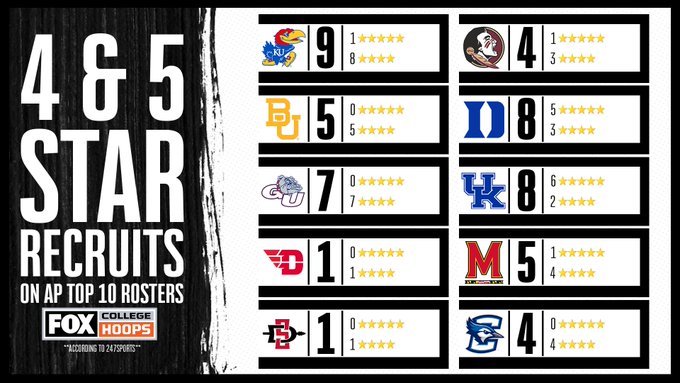 --
The Best Dayton Men's Basketball Team Ever Is Also The Most Dunkalicious:
https://fivethirtyeight.com/features...mpression=true
-- A timely article by Andy Katz entitled
Improving the Coach-Official Relationship Begins with Mutual Understanding:
https://nabc.com/nabc_releases/timeo...2020/officials
As long as James "Double Technical" Breeding isn't calling a UD game I'm sure AG has no beef with the zebras.
-- In the annual "Best of Dayton" awards was there ever any doubt that The Pine Club would win in the "Best Steak" category?
https://www.dayton.com/lifestyles/an...tem=story_card
--
"The Sweet Tweets of the Week"
come to us from Dickie V's ESPN broadcast partner, Bob Wischusen:
Haven't been to UD Arena in a long time...when I first started at ESPN, I called a bunch of @DaytonMBB games..was always blown away by the atmosphere..one of the best in the nation. I'll be there Friday with @DickieV...and there's a rumor the @sportsiren may even join us!

And from the aforementioned "Sports Siren" AKA Holly Rowe:
Excitement level flying high. Begged my boss to let me work @DaytonMBB game Friday night. Thrilled to see what is special about this 26-2 team. Scouting them vs Kansas and Flyers look GREAT...have only improved since this early season meeting. Gonna be awesome!
That's it "From the Swamp."
You can email me at:
swampy@udpride.com