BEVERLY HILLS (MI) -- The Atlantic 10 regular season is winding down for the University of Dayton Flyers. Only two tilts remain: the
Rhody
roadie on Wednesday and the senior night affair on Saturday with GW. The following week will find the Red and Blue in Brooklyn attempting to secure the conference tournament crown to go alongside their regular season title. And then Selection Sunday and the Big Dance.
"FTS"
got our pre-season wish: UD is not wondering
if
they will be in the field of 68 but rather
where
they will be playing as part of it.
I hear Cleveland is lovely this time of year.
As crazy as the pub has been for AG, Obi and the ascendant Flyers, you ain't seen nothin' yet.
Bring it on!
-- If this brief highlight video from the Davidson game doesn't get you pumped, I don't know what will:
https://www.facebook.com/DaytonMBB/v...1679028535980/
-- This week-by-week animation of the AP Top 10 rankings is visual proof that this college basketball season has been WILD:
https://twitter.com/CBBonFOX/status/1233113398558126080
-- Courtesy of our esteemed leader
Chris Rieman
, here is the official NET Nitty Gritty sheet used in the war room by the NCAA Selection Committee to determine seeding, thru games of March 1st:
https://extra.ncaa.org/solutions/rpi...01,%202020.pdf
-- The historic significance of this Dayton Flyers' season in a nutshell: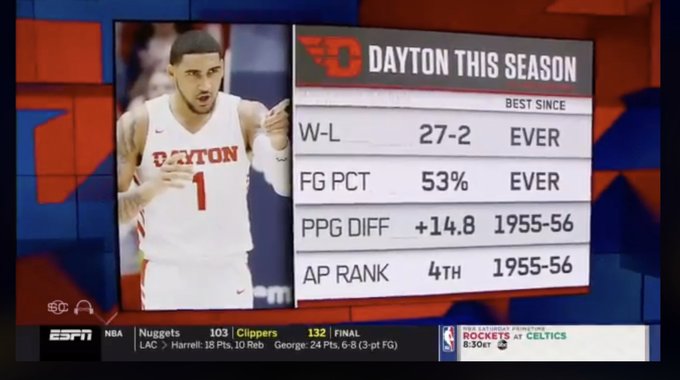 --
A-10 Talk
asks the question:
Can Dayton Actually Earn a One Seed?

https://www.a10talk.com/can-dayton-a...rn-a-one-seed/
-- Jon Rothstein of
CBS Sports
believes that when it comes to SDSU and Dayton,
"The Aztecs and the Flyers have had unbelievable seasons but it will take at least two wins in the NCAA Tournament to ensure that these seasons are not remembered as failures."
https://www.facebook.com/CBSSports/v...676353/?type=1
-- This Luke Garza/anti-Obi Toppin for POY graphic reeks of total desperation on the part of the Iowa Athletic Department: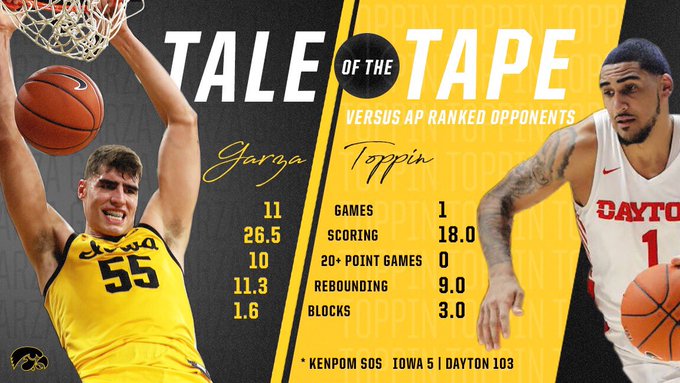 UD alum Tom Eggmeier with the apt Twitter retort:
Garza versus top 5 competition: averages 0 points, 0 rebounds, 0 blocks. Toppin versus top 5 competition averages 18 points (63% 2PT, 33% 3PT, 100% FT), 9 rebounds, 3 blocks. We all can play the misleading statistics game.
Then Tom goes for the jugular on Garza:
Luke Garza has the 5th best kenpom offensive rating ...on Dayton. Obi Toppin, Jalen Crutcher, Ibi Watson, & Trey Landers all better kenpom offensive ratings than Luka Garza.
-- An encouraging tweet from Zimi Nwokeji's former coach Justin Brantley on the redshirt freshman's progress since arriving at UD mid-semester:
Spoke to @DaytonMBB freshman Zimi Nwokeji about his adjustment to college. He told me they tested his body fat today & is down from 17% on day 1 (he loves pizza) to 9% now! He's been there less than 60 days! I'm proud of him & impressed by the Strength & Conditioning Staff!
-- ICYMI, Arch in
The DDN
does his usual masterful job in an interview with legendary UD Head Coach
Don Donoher
:
https://www.daytondailynews.com/spor...BPjKW0SEAt7HM/
-- Congrats to UD AD Neil Sullivan on being named one of the 2019-20 UnderArmour Athletics Directors of the Year:
https://nacda.com/news/2020/3/3/nacd...announced.aspx
-- This is the funniest thing that I have read on Twitter all week. Click on "Show this thread" below the tweet -- the replies in the thread are absolute comedy gold:
http://twitter.com/jeremygratil/stat...81763002593285
-- How a janitor at Frito-Lay invented Flamin' Hot Cheetos. Richard Montañez went from cleaning toilets to being one of the most respected execs in the food industry:
https://thehustle.co/hot-cheetos-inventor/
--
"The Sweet Tweet of the Week"
comes to us from "The Hometown Coach" Mark Adams:
I will be in the Dayton Decibel Dungeon on Saturday night, not as a broadcaster but as a fan. I will wear my new DDD swag! I have noon game on ESPN then will fly my Lincoln MKZ from Bloomington to Dayton. Rita's actual rosary will be with me!!!
That's it "From the Swamp."
You can email me at:
swampy@udpride.com