BEVERLY HILLS (MI) -- Back in 2004, the Boston Red Sox faced a near-impossible challenge in their attempt to erase 86 years of baseball futility. Down 3-0 to the hated New York Yankees, "The Idiots" would have to win four games in four days (after losing game three by a score of 19-8 on their home turf) in order to move on to the World Series.
Chief Idiot Kevin Millar put the situation this way:
"Don't let the Sox win tonight. Don't let us win tonight. If we win tonight, we've got Pedro coming back and then Schilling will pitch Game 6. And then anything can happen in Game 7."
Which is exactly what
did
happen, in heart-stopping, sleep-depriving, nightmare-inducing fashion for Matt Schwade and Yankees fans everywhere.
Here is the trailer for the ESPN 30 For 30 documentary "Four Days in October" so you can get a sense for what it was like back then:
https://www.youtube.com/watch?v=jVyo...TSSuK22fF79uK1
Your 2020-2021 University of Dayton Flyers face a similarly daunting mission, albeit one that does not require a quartet of victories in consecutive days. UD's task at hand:
Win 3 tilts in
Richmond
, rest a week and then play at home in UD Arena for the A-10 crown and a ticket to The Big Dance.
Before we discuss whether that scenario is even within the realm of possibility, let's take a gander at the current state of affairs in the Atlantic 10.
As
CBS Sports
Jon Rothstein put it Monday evening:
Cannibalization in the Atlantic 10 has reached a new level tonight. St. Joe's wins at Richmond and Dayton beats St. Bonaventure in Olean.

Are the lambs still screaming, Clarice????
The Flyboys' most recent effort in Olean vs. the regular season A-10 Champion
Bonnies
was full of conundrum-inducing statistics:
-- UD committed an inexcusable 21 turnovers
-- The Flyers shot an abysmal 60% (9-15) from the FT line
-- SBU had 9 steals and 7 blocks
-- Jalen Crutcher was disqualified for only the third time in his career, four of which were offensive fouls. As UD Pride's resident stats guru Figgie explained on the MB:
I have play-by-play stats back to 2005, and in that time, this is the FIRST time to have a player have 4 offensive fouls in 1 game.
And #10's fifth foul was a total flop by the Bonnies' player. I thought the Golden Globes were on Sunday night, not Monday afternoon.
And yet the good guys won! How in Hades did they do that?
-- UD hit 50% (6-12) from the land of plenty
-- SBU shot a dreadful 30% (18-60) from the field and 29.2%(7-24) from three
-- Rebounding has been a consistent issue for the Red and Blue, yet they outboarded the Bonnies 36-32
In looking at the A-10 Championship bracket here's what we've got, courtesy of SBUnfurled: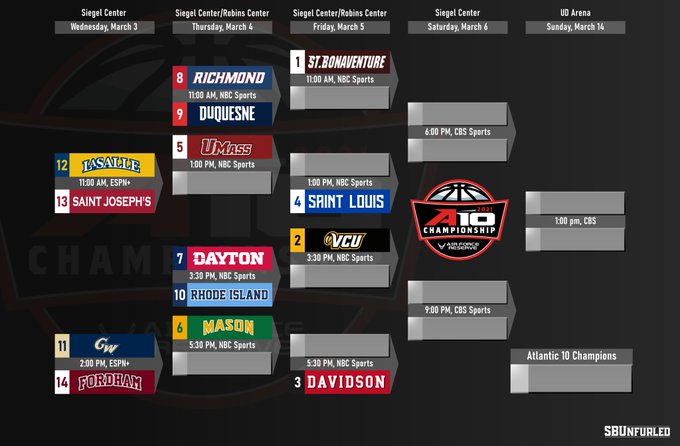 The path to paradise entails beating a
Rhody
Rams team the Flyers defeated once and woulda, coulda, shoulda beaten in their other meeting; facing a wounded VCU in their home cafeteria and then most likely a matchup with Davidson, another squad that the Sons of Anthony Grant have previously dispatched.
All of which would lead to a March 14th meeting with most likely
SLU
or SBU, with whom UD is a collective 3-0.
You get the sense that UD
can
do this, if regular season performance is to be considered any barometer. The welcome news for the
Flyer Faithful
is that as it is currently constituted, the A-10 bracket should not require the Red and Blue to face
Fordham
,
LaSalle
or St. Joseph's -- which is a good thing!
Which team will show up on Thursday?
Who knows???
That's it "From the Swamp"
You can email me at:
swampy@udpride.com